Ch Wilbus Lovesong JW

BVIS WAHC October 2008

Photo: Jo Smith, Zaqqari

Stud Book Number 0049CJ
10 November 1997 - 18 October 2013
Sire: UK/IR Ch Karaburan Jelly Roll Morton
Dam: Wilbus Kismet
--------------------------------------------------
Junior Warrant gained 06/03/1999
Pedigree Pet Foods/Our Dogs Puppy Of The Year 1998
BB/BIS SAC Open Show 1999
RBCC and RBIS WAHC Ch Show 1999
Harcourt-Brown Junior Points Trophy Winner 1998
BIS AHA Open Show 1999
BIS AHCW Open Show 1999
CC and BOS Paignton Ch Show 2000
RBIS WAHC Open Show 2000
BB and RBIS WAHC Open Show 2001
BB and RBIS BACH Open Show 2001
RBB Midland AHC Open Show, 2002
BB and BOS AHC Wales 2002
BB and BIS MAHC Open Show, 2003
RBCC and RBB MAHC Championship Show 2003
RBCC Houndshow 2003
BCC Bournemouth 2003
RBCC Hound Association of Scotland 2004
BCC WELKS 2004
BVIS WAHC Championship Show 2008
And numerous other BP, BB, RBIS, BIS and placings
Daisy was born on 10 November 1997, the same day and month of Brian's father's birth. Her breeders are Lesley and Alan Busby of the Wilbus kennel. The WILBUS "L" Litter were all pet-named after the Manchester United football team, which Alan and Simone Busby support with a passion. And why not! Daisy, by the way, was named after Gary Pallister (no longer with Man U) as he and Steve Bruce were affectionately dubbed Daisy and Dolly respectively by Sir Alex Ferguson. Dolly stayed with Lesley and Alan.
In 1998, on our 14th anniversary, we left home at 5:30am and drove to East Sussex to collect Dee Waterman, then headed for Kent and the Wilbus household. We went to see the remains of the "L" litter, many puppies had already been snapped up, and we were curious to see Alan and Lesley's house as we had heard so much about it. The house is Edwardian (complete with servant's bells!) and its grounds include part of a wood at the rear. We were fed, watered, wined and dined, and fell in love with this little angel who allowed herself to be poked and prodded, but stood perfectly, straight out of the nest! We agreed a three-way partnership between David, Dee and Brian (Brian's first afghan hound) and took her home to Wiltshire that night. She had neither been away from home, nor in a car. Yet, she slept on Dee's, then Brian's lap for all of the four hour journey back to Wiltshire. We stopped in East Sussex to buy water, food and tissues in case of accidents, but didn't need them. When we arrived home, we put down the food for Daisy which Lesley had been feeding her. Honestly - she took one mouthful, spat it out and ate what our other four afghans ate! She has never touched any of the food she was raised on again!
We took her to Ring Craft. Our first attempt was abruptly cut short when, at our local village hall, we spotted the trainer loading a water pistol! We found another class on a Monday evening (Spire Dog Club) at St Mark's Church Hall in Swindon. Pat Oborne, the head trainer, and her team were brilliant. The whole floor inside is covered with rubber matting. Outside, when the weather allows, there is a large grass area which was used whenever possible. This is where we first spotted Daisy's terrific movement. One night, out of the blue, she just showed off that magic front extension, and blew us away. So much so, that Brian went out the next day and bought a video camera so that David could see from the judge's point of view (as it were).
The Wilbus "L" litter made its debut at the SAC Show at Slough in 1998. Daisy was 3rd in a class consisting of herself and her two sisters (Dolly and Dizzy). A week later, at Birmingham AHC Open Show she came 2nd out of two! But ....... two weeks after that she came into her own and won Minor Puppy Bitch at Bath CS under Terry Thorn, cheered on by a number of her classmates from Spire Dog Club. 3 - 2 - 1.
The same class-mates made a huge noise cheering Daisy in March 1999 when she gained her Junior Warrant (and Best Of Breed) under Bronwyn Lawson-Ball at Swindon DCS Open Show.
From then on it has been a fantastic success story. Her Reserve CC under Pauline Mullins at WAHC in September 1999 was a very special moment for all of us. Brian's parents were in attendance but did not stay for the BIS challenge because they thought it was all over! When Jill Cross gave Daisy RBIS, it reduced Brian to tears.
Daisy's CC at Paignton under Diane Cooke in July 2000 was magical. Diane had given her brother Bryan (Ch Wilbus Libretto) a Reserve CC in the morning, so the buzz started at lunchtime about Daisy's prospects in the afternoon. David disappeared with her for ages, choosing to avoid the speculation. The video that Brian took of that afternoon contains a great deal of his screaming and squealing! No tears this time, just elation.
Daisy gained her second CC at Bournemouth 2003 on the hottest day since records began. Elaine Wyatt said that when showing, Daisy was totally "with" David and was giving her all. She describes Daisy as a "diamond". What more can you say?
Her personality was - cheeky. She was a naughty little minx! We don't know how she was raised at the Wilbus Ranch, but we certainly didn't teach her some of the things she got up to!
She hated magazines, and would destroy them if she was bored. She was a brilliant pruner in the garden. She has managed to prune a 6 feet high bamboo plant in three moves. Each year a new plant, shrub or tree took her fancy and she flattened it, or beat it up! She loved to watch birds, and could spend hours watching them fly to and fro. But heaven help a neighbour who dared to turn a light on at night. They would get a severe barking to!
We couldn't understand why she liked whisky and coke, until Lesley confessed that it was a drink that she was partial to. Shocking! Leading such a young afghan astray!
She barked at most things that dared to walk up our street and took over from Misha (Wishful Misha At Numa) in that respect.
Daisy was only afraid of three things, fireworks, shiny floors and a bath. When a bath was due, she trembled and shook and tried to hide. She cooperated when cornered, and was quick to flaunt herself off when she was finished under the dryer. Her thoughts then turn to the next show .... she absolutely loved being shown, and on show days (once she had spotted the cool box being loaded into the car) she whinnied and cried for us to hurry up and get going!
Daisy gained her crowning CC at WELKS (West Of England Ladies Kennel Society) Championship Show on Saturday 24 April 2004 at 3:50pm under Roy Metcalfe. Not that we noticed the time or anything .........
Daisy passed away peacefully at home on 18 October 2013, which just happened to be Brian's Mother's birthday. RIP Champ!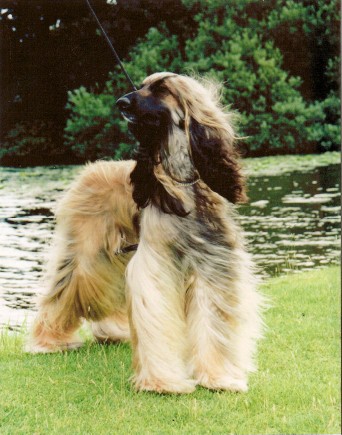 We are extremely grateful to Lesley and Alan Busby for Daisy.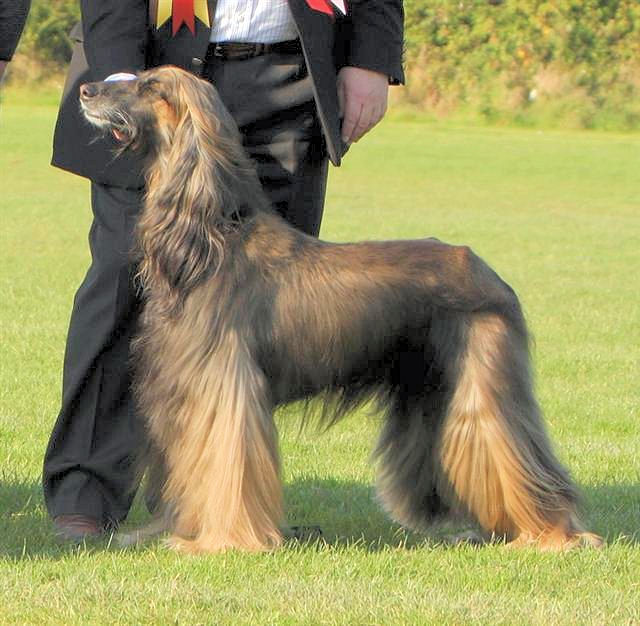 BVIS at WAHC Championship Show, 2008
Photo: Jo Smith (Zaqqari)
---------------------