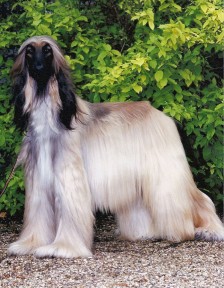 Photo: David Paton

Stud Book Number 0337CH
09 May 1994 - 27 September 2005
Ch Melleck Hitchhiker x Bowentree Sucher at Rusmar
_____________________
4th Post Graduate Bitch, 3 Counties Show 1996
2nd Graduate Bitch, Blackpool 1996
3rd Graduate Bitch, Hound Association 1996
3rd Graduate Bitch, Bournemouth 1996
1st Post Graduate Bitch, AHA Open Show 1996
1st Post Graduate Bitch, NEAHC Ch Show 1996
1st Post Graduate Bitch, HC Wales Open Show 1996
3rd Post Graduate Bitch, SAC Ch Show 1996
RBB, Birmingham AHC Open Show 1997
2nd Post Graduate Bitch, Hound Assoc Open Show 1997
CC and 1st Post Graduate Bitch, Manchester 1997
1st Mid-Limit Bitch, NAHC Ch Show 1997
BB, RBIS, BOS WAHC Open Show 1997
2nd Limit Bitch, AHA Ch Show 1997
RCC and 2nd Limit Bitch, Three Counties 1997
Numerous other high placings, BIS and BB
___________________
Ahhh, Page. The pun is intended!
Page was bred by Dawn Russell and went to live with Dee Waterman. In 1996, Dee went to New Zealand to judge and we went to visit Lyn Prior-Hewson . Lyn was looking after two of Dee's dogs at the time, and we met and fell in love with Page. She was about 18 months old then. When Dee returned from New Zealand she contacted us and a partnership was set up between David and Dee. David collected Page in September and she soon settled in to life at Numa. However, as Page had been used to living in kennels, she was not very house-trained and we had problems with her in this respect until she passed away. Her pet name became "puddle"!
We took Page to training classes (Ring Craft) as we have all of our dogs. Page didn't really like being trained for exhibition and spent a lot of time up on a chair behind Brian. She had great conformation and movement, but didn't always raise her tail on the move. Out of the ring, up it came like a cork! We spent hours in a field training her to raise her tail, David at the front leading her, and Brian at the rear holding her tail up!
Her show achievements listed above are impressive, nonetheless. But in 1997 we noticed that her breath smelled badly and we took her to the Vets. She had advanced gum disease and the Vet recommended that four of her front teeth were removed. We obtained a second opinion from a canine dental specialist in Swindon. He concurred with the original diagnosis. We got a third opinion from a Vet in Hampshire. He agreed with the earlier diagnoses and so it was that Page had four of her front teeth out.
We put a case to the Kennel Club and were granted permission to show Page with missing teeth. However, her show career dipped alarmingly and eventually we agreed with Dee to allow Page to retire gracefully. A great shame.
She was a great character and the noisiest of all at Numa. She tried to talk. She wailed. She grumbled. She ran around demented and then flopped down with a thud. She was convinced that everyone who came to visit the house came to see her and it was hilarious to watch her pushing up to visitors - me, me, me! Quiet - she wasn't! Gorgeous - she was!
On 27 September 2005 David took Page to the Vet's for (we thought) a routine treatment for a sore teat following a season. Unfortunately, it was the big, nasty, "C". Having discussed possible treatments, we decided that Page was too frail, at 111/2 years old, to survive and operation and so it was decided to give her sleep. Sleep well, beautiful girl - and when you run, run face to the wind. x x x
---------------------