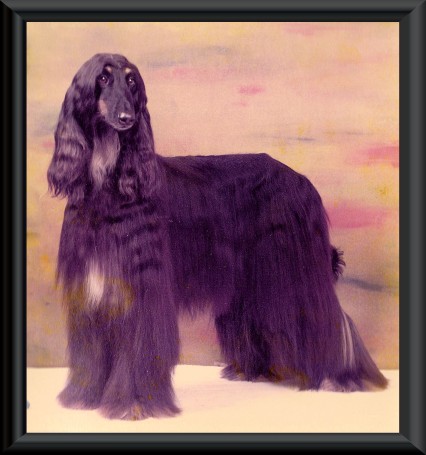 Stud Book Number 1263BP
12 December 1975 to 12 June 1983
Sire: Mullions Mockingbird From Bozwood
Dam: Pollyanna of Kabella
CC at Three Counties, Malvern 1980
Multi-BP/BB/BIS Awards
David had been showing Suki (an Afghan Hound he owned for a little while only) at local exemption shows, much to the amusement of fellow afghan exhibitors in the local area. It soon became evident to David that Suki did not have show potential. He also felt that she needed company at home. Soon after that realisation, an advertisement appeared in the local paper for a litter in nearby Chippenham, Wiltshire. David's then partner, Alan, wanted to show as well. David and Alan went off to see the litter - taking Suki with them.
The litter had not been entirely planned - well, the sire wasn't! Ch McMul Gee was proving a little reluctant to mate Pollyanna of Kabella, so Terry and Shirley Carr had taken Rufus (Mullions Mocking Bird From Bozwood) along as a tease. Rufus won the day.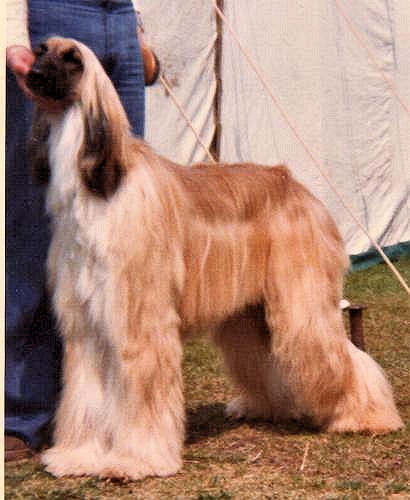 Alan chose the beautiful b/m gold Kamiren Araminta (Bubbles) who was very successful in the show ring.
David couldn't take his eyes off of a black, noisy, monster running around the living room. Marion Newitt, their breeder, had called this one Beryl, after a naughty cartoon character called Beryl The Peril. If you picked this furry Beryl up, she would create something awful! She was quite a handful.
Marion could see that David was favouring Beryl, but explained that Terry and Shirley couldn't make up their minds between her and a cream dog that became the successful Supertramp from Bozwood. So David tried to put her out of his mind. The time came to pick up Bubbles - so, back to Marion's they went. Upon arrival, David was still favouring Beryl and Marian said that David could have her for £60, as Terry and Shirley were taking the dog. He jumped at the chance and changed her name to Blue - after hullabaloo.
She was the ringleader of all mischief at home - uprooting and destroying sixteen rose bushes in less than half an hour of them being planted, in a sectioned-off part of the garden. She pulled down fences, stole a whole cooked chicken, ate half a Christmas cake, pulled down the Christmas tree because she wanted the Christmas fairy, leapt from one side of the room on to David's lap whilst he was eating dinner to bite him affectionately on the chin. She was truly Beryl The Peril and was always living up to her name at every opportunity.
| | |
| --- | --- |
| | She went through all the stages of afghan development from a ball of fluff to a most elegant and beautiful hound. She only ever grumbled once at another dog, and that was her own mother, Pollyanna, who had tried to mount her as she was waiting to go into the ring at a show. Her mother dismounted very quickly! |
Blue won the Bitch CC at Three Counties Show in 1980 under Judge Carol Hill (now Lee).
Yes, that really is David in the centre of the photograph with Blue!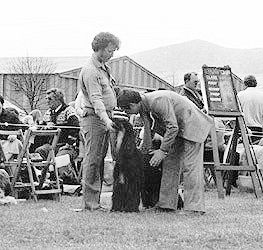 Kamiren Ambroisine, affectionately known as Blue, was tragically killed in 1983, when a guest at David's house left the garden gate open. The details are too painful to go into, and please - do not bring Blue's death back to David's mind. Ever. She was a fabulous whirl of contradictions and David still misses her passionately.
---------------------