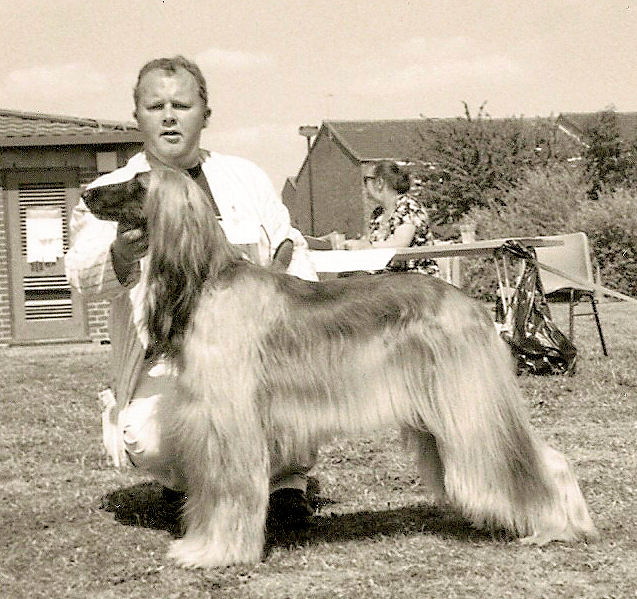 Stud Book Number 0898CD
BCC Birmingham National Dog Show 1993
08 May 1990 - 28 February 2003
Sire: Moonlight Shadow from Sashkan
Dam: Czhemara Zahi-Rosa
Over 100 First Prize Awards
Misha came to us through the Western Afghan Hound Club Rescue Scheme. She had been put into rescue by an owner who could not cope with her. The owner was so desperate, she told Trisha Harper (then Rescue Officer for WAHC) that she would put a gun to Misha's head and shoot her if Trisha couldn't find a home for her immediately. On hearing this, we piled into the car and charged off across Salisbury Plain to a small rescue centre where Misha was being looked after.
It turned out that Misha was one of a litter of 13 and had been quite poorly as a puppy. The lady who ran the small rescue centre had visited the litter and bought Misha for quite a substantial sum because she looked so poorly. Fortunately, the lady worked for a Veterinary Surgeon at the time, and took Misha to him. He diagnosed Parvo Virus and Misha was seriously ill for several months. She was on a drip for two weeks to keep her alive. Only liquid food could be injected down her throat using a large spent syringe.
When we first saw her, she was bonny and bouncy and it was her first birthday. The owner of the small rescue centre had already homed her twice and both times she had been returned. One owner could not cope with Misha when she slipped the lead and ran straight across a dual carriage-way road near Southampton! Misha backed out of her lead with us, soon after we started showing her, but has since broken the habit.
We had taken a lead and collar with us, and took Misha for a walk round the block to get to know her. It was love at first sight, and we think the feeling was mutual. We went back to the rescue centre and told them of our decision to take her. They had done some checking up on us with another afghan hound owner and agreed to let us have Misha for a small contribution to the centre's running costs. Between us we had £25 - which was gratefully accepted!
At home, we had a black cat, who had adopted us some years earlier. He was not too keen on Misha at first, but she never bothered him and always respected the fact that he was here first.
We took Misha to Ring Craft classes, which she enjoyed and which was to precede a very successful show career.
Brian's favourite moment with Misha is when she went Best in Show at Stroud Open Show. Domenico Traversari had awarded her Best Of Breed and Margaret Everton crowned it with the BIS. The rosette awarded to Misha is the biggest we have ever seen - it must be nearly half a metre in diameter. David's favourite moment with Misha was when she gained her CC at Birmingham National under Mr. John Whittaker.
Always Pack Leader at home - and didn't the other hounds know it!
On 28 February 2003, whilst we were all together and watching TV in the evening, Misha suffered a stroke. She was nearly 13, and in order that she did not suffer a prolonged departure, was given sleep by our Veterinarian. May she rest in peace, although, knowing Misha, there is no way she would waste one precious minute of any day and is probably bossing all the hounds around wherever she is!
| | |
| --- | --- |
| | Showgirl in the making. |
Swindon Evening Advertiser May 14, 1991