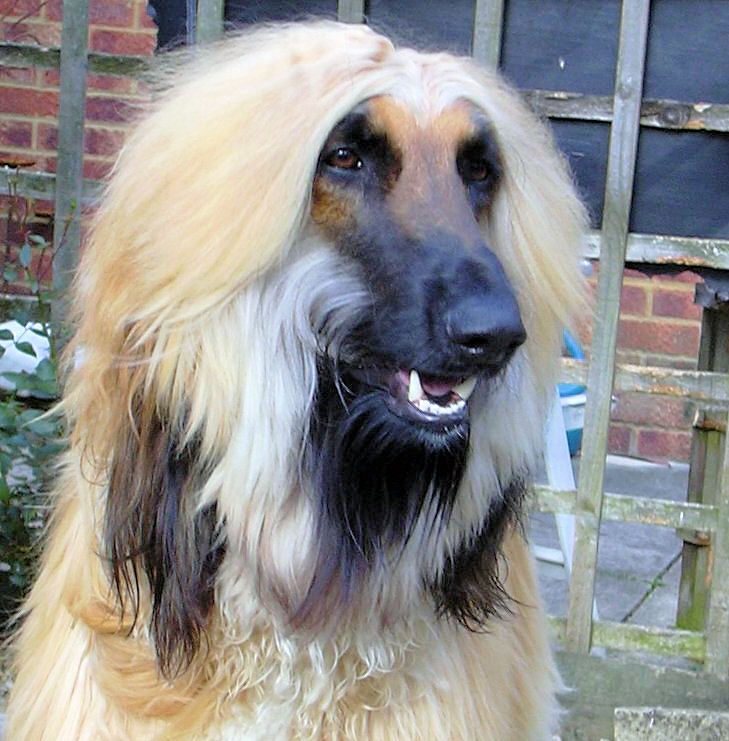 05 March 2003 - 27 February 2011
Sire: Ch Wilbus Libretto
Dam: Ratheeli Tabassuhm
____________________________________________
Bart passed the Puppy Foundation Assessment which is part of the Kennel Club Good Citizen Dog Scheme.
1st MPD - Richmond Championship Show 2003
1st MINOR PUPPY, NOVICE, TYRO & DEBUTANT - N E A H S Ch Show 2003
1st MPD, PD, ND and Best Puppy in Show - A H A Open Show 2003
1st PD - AHC Wales Open Show 2003
1st ND - NAHS Open Show 2003
____________________________________________
This page is about Bart (Bartholomew - we saw him first on Easter Monday), also known as Ratheeli Nadir at Numa.
Bart arrived at Numa Afghan Hounds on 9 May 2003 and soon became a big hit with Page (Rusmar Arpage For Bowentree) and Daisy (Wilbus Lovesong). Daisy is Bart's aunt.
Bart was jointly owned by David and Brian.
He was half-brother to Lily (same dad - Ch Wilbus Libretto aka Bryan) and was the nicest older brother you would care to meet. He put up with a great deal of ear-tugging from Lily - she tugged other things too!
Bart thoroughly enjoyed obedience classes, and had turned into quite a little star at them - but he HAD to say hello to every other dog present first, or he would take the opportunity to do so off the lead, and then return to the task in hand!
Pet hates - the dustbin men (they are noisy!) and fireworks.
It is with great regret that we have to tell you that Bart passed away on Sunday 27 February 2011.
He had not been well for the past two weeks, twice failing to eat his dinner - the only two times in his life that he did so. Recently we noticed that his breathing had become laboured and he was bloated. He drank a lot of water at times, but would occasionally bring it back up.
We took him to the Vets and Sophie (our vet) was concerned at his weak heartbeat. She prescribed him some antibiotics, took a blood sample and said she would contact us later in the day when the initial investigation of his blood was done. Later she phoned to say that Bart had an infection so it was a good job she had prescribed the antibiotics. She wanted to do further investigation on Bart and we booked him in for a follow-up appointment.
However, Bart's condition worsened. His breathing became more laboured and he bloated up again, drinking more water. He then went "off his legs" and lost control of his bowels and bladder. We rushed him to the vets, but could tell he was struggling. The vet listened to his heart and David made it easy for her, by saying "I thinks its his time". He was given sleep and, as always in his life, Bart left us with great dignity.
We cannot tell you what a huge hole Bart is going to leave in our lives. He would have been 8 years old the following Saturday. We loved him dearly. We are so proud of his contribution to the Afghan Hound world. As a puppy, he sailed through training classes - only having to be shown something once. He was regularly used to demonstrate to other owners and dogs how to walk off lead, do a recall, sit, stay and lie down. He gained his Bronze Good Citizen's award with ease. He was twice used by the Western Afghan Hound Club for judging seminars and examinations - the last one just two weeks prior to his passing. Bart was the cuddliest, friendliest Afghan Hound it has been our privilege to share our life with.