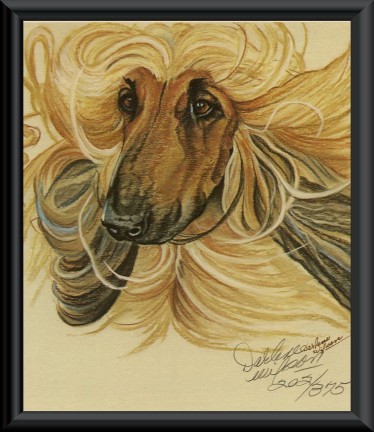 01 August 1976 to 1986
Sire: UK Ch Sacheverell Zukwala
Dam: Rifka's Masindi
Dusty achieved many Best Puppy Awards
David went to see a litter in Bournemouth from the very successful Ch Sacheverell Zukwala and Rifka's Masindi after the Bournemouth Championship Show where, coincidentally, Zukwala won the CC and BOB. There were two bitches that David was particularly taken with - identical except for the width of their white chests. It was here that David first met Peggy Riley, who confided in him that those were the two that she liked. David chose Dusty and Dot Stent kept her twin.
Dusty was an easy puppy and enjoyed the whole show scene, winning many puppy classes. She was of good construction and enjoyed obedience classes as well as Ring Craft. Her obedience "recall" was astonishing to everyone - especially David! She was the only one of David's dogs to walk off the lead and come back when her lead was raised in the air.
Dusty had many interesting tastes and was partial to lager beer. She would open the cans and drink as she felt fit. She would also take the chocolate decorations off the Christmas Tree, but leave the wrappers hanging on the branches.
She hit the junior classes with a phantom pregnancy and blew her body coat, revealing her excellent shape, but .... sparse body coat was not the fashion in the British show ring at the time. David decided that she would have a litter and took her to the Dove household to use the services of Saringa's Nimrod, a black male of good type. Their pedigrees married up well, but at the prescribed time, after going off her food, temperature drop and a lot of bed-making, she produced nothing. Whether she absorbed her puppies, who knows? Her adopted litter at this time consisted of an orange, a tablespoon and an empty milk carton. Picture trying to feed an empty milk carton - if you can!
Dusty was the only afghan in the house that showed any protective instincts towards the property, which amused, but never rallied, her housemates. Her other eccentricity was answering the telephone when David was out. Many people commented on the heavy breathing and the slobbering noises!
It was a deep, personal sadness to David that, when his relationship broke up, he was unable to take Dusty with him when he left. However, he was able to take Blue (Kamiren Ambroisine) - whose story is told on her own page.
---------------------