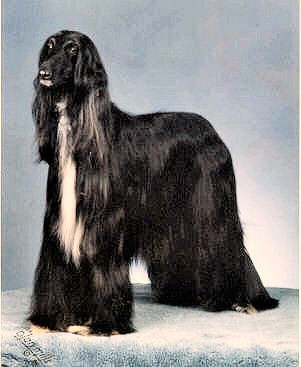 Stud Book Number 2393CF
22 July 1991 - 24 March 2003
Sire: Weetoneon Dark Warrior
Dam: Bozwood's Goody Two Shoes
Best Puppy, Chippenham Canine Society 1992
2nd Puppy Bitch, Bath CS 1992
1st Graduate Bitch, Plymouth DCS Open Show 1993
Swindon DCS 1993 Dog Of The Year
RBOB Swindon DCS Open Show 1994
3rd Limit Bitch, East Of England Ag Show 1995
Bunty was our little couch potato. She got quite upset if she lost her space on the sofa. She got up now and again, to answer a call of nature and to feed her face. If chicken or cheese were around, she could move quite quickly!
She was adorable and only ever got a teeny bit cranky when she was in season. She loved to wind-up Page (Rusmar's Arpage For Bowentree) and enjoyed a good chase around the garden. She was only lightly shown as David was campaigning Misha.
In July 1992, Bunty became unwell. She was off her food (most unlike her) and running a high temperature. We took her to the Vets and she was prescribed a course of antibiotics. Fortunately, these cured the problem. The Vet thinks she had a form of glandular fever because, in turn, each of her lymph glands swelled up. It was a very worrying time.
In 1993 we took Misha, Bunty and Beano to Scotland for SKC. Although not worried about the cramped car, Bunty would not drink or wee for the whole time we were away from home. No matter where we stopped (and it was hot and sunny, so we stopped a lot) she would not drink or wee. Brian was really worried. However, when we arrived home late the same day, Bunty promptly opened the floodgates in our garden and all was well.
In August 1994 we took Bunty and Beano to Glastonbury, Somerset for Afghan Racing and a joint SWAR and WAHC BBQ. We "slipped" Bunty and Beano as we didn't think they'd cope with being "trapped". Both Bunty and Beano had a great time and although Bunty couldn't match her brother's longer legs, she thoroughly enjoyed a good race round the track. This is the only time that we have let our dogs off the lead in public, and the last. We were absolutely terrified they wouldn't come back to us - but of course they did!
Bunty would share her sofa with anyone, as long as she was in place first, and now and again enjoyed a tour around Swindon in the car. She led such a sedate life. We're sure she would have been a lady who lunches (with Chauffeur, of course!) had she been born with different genes!
Bunty was a real sybarite and enjoyed nothing better than having her tummy rubbed, and if you didn't you'd soon know about it. She had the sweetest nature. She was the first to start any howling and enjoyed a good old sing-a-long. A karaoke queen.
Bunty was given sleep on 24 March 2003 after becoming unwell over the weekend. We feel she missed Misha greatly, who died just three weeks before her. Bunty passed with peace and dignity.
We are very grateful to Terry & Shirley Carr for Bunty.
---------------------